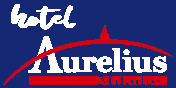 5. 4. – 26. 11. 2023

We offer:
Prices:
www.booking.com/hotel/cz/aurelius-mikulov.cz
10% discount: rezervace@aurelius.cz
Only 2 nights and more together.
Your credit card will be charged in CZK according to the hotel's exchange rate. Payment can also be made in cash in EUR.
Check in: 3:00 p.m. – 6:00 p.m.
Check out: 10:00 a.m.
Early or late check-in possible upon prior agreement.
Private parking is possible on site (reservation is not needed).
Pets are not allowed (penalty 400 eur/night).
We offer cozy rooms, suitable for individuals, couples, as well as families.
Each room is equipped with a bathroom, TV, Wi-Fi and hair dryer.
Families with little children can use a kitchenette.
The price includes a buffet continental breakfast in the hotel restaurant.
It is possible to borrow an iron.
Prices include VAT and local taxes.
Cancellation policy: Guests may cancel their reservation free of charge up to 5 days prior to arrival.
In case of cancellation less than 5 days prior to arrival the guests will be charged 50% of the total price, when check-in and later will be charget 100%.
Non – smoking hotel (penalty 400 eur/night).
Additional services:
Children under 3 years old are not allowed.
Children have to sleep on paid beds.
Breakfast is served every day from 7:30 a.m. – 9:30 a.m.
Contact us:
info@aurelius.cz